~ At Pure Gold Morgans, our Lippitt Morgan stallion, "Baroncrest Nuggeteer", stands at stud, at our farm in Highland, Michigan. Baron is a very handsome stallion with a gentle sweet disposition, a sane, intelligent, sensible and pleasing personality. "Baron" has exceeded our expectations in the show ring and as a sire. He is a multi-champion, In-Hand. He has sired 20 + foals, many with his beauty, wonderful personality, good bone, size and great conformation. His pedigree speaks of the purity and pride of his Morgan heritage. We have raised Baron(now 21yrs old) and our foundation mare, Ruby whom is 22 yrs old, with TLC. Those who appreciate the "Original Look", "Characteristics" and "Style" of "Figure" of the Justin Morgan's stallion, will see all of these in our Morgans. You can view both Baron and Ruby with links below.

In addition to raising Morgans we also have our German Shepherd breeding program. These include our retired foundation females "Hannah", "Brit" & Ms Burgandy and our main stud "Mr Bear" , with breeding females , Ms Lola, Ms Phenyx, Ms Karma, and young females maturing nicely; Ms Dora, Ms Maya & Ms Zena, with occasionally puppies for sale, which are raised in our home, they all can be seen, on the GSD page of this website.
Our human family includes ~ Two sons, James and Jeremy, both have earned their Eagle ranking in BSA. We are so proud of both of them.
And have become handsome young men.
As a breeder of German Shepherds & Morgan horses, a retired dog groomer(28+yrs) and dog trainer. I like to know that all my own animals and my client's and their animals are receiving the best nutrition possible. I have found that using Super Blue Green Algae for 20+ yrs
( www.earthsfirstfood.com )
has shown health benefits ( www.whyalgae.com ) that other supplements
or feeds alone have not.
Canine only product - http://www.nuvet.com/61208

Please read my testimonial and consider this product for yourself
and your fur kids, they will thank you !

My Personal Testimonial
A friend told me about this animal supplement over 20 years ago, when our German shepherd was aging poorly (12yrs old). His dry - flaky skin and his weak hips vanished within 3 weeks time- he put on 10 pounds of muscle & his skin improved with NO flakes. Within a couple of months, he acted 5 years younger and looked it too, w/ a shiny coat. He lived to be 16 1/2 yrs old and died of natural causes (no cancer).

The vitamins we were taking NEVER showed us
the benefits that the SBGA has.

My parents have been taking the algae products for almost as long and Mom swears that it has helped Dad's immune system while dealing with his many ailments!!
Dad was diagnosed as a diabetic, with prostate cancer & terminal multiple myeloma bone cancer at the same time, when he went to the hospital after hurting his shoulder while roto-tiling his garden. The doctors gave him 4-6 yrs to live, when he shared this with us, we were shocked to say the least.
At that time I had been using the SBGA with the dogs & horses and seeing wonderful results. After my sons chronic ear infections, we all started the program, the doctors wanted to put tubes into his ears and I said NO - there must be another answer and after starting him on the SBGA he had one last infection then NO MORE his entire life, he will be 24 in June, 2011. So we gave Dad the full program to start and it strengthened his immune system so he could better handle the radiation and chemo treatments, he never lost the hair on his head, or his appetite.

He beat the cancers, the doctors said he was a walking miracle and he is in the medical record books. He outlived the cancers........ Open heart surgery, aneurism surgery, clogged artery neck & leg surgeries. When he did die 14 yrs later, he did not have a cancerous cell in his body !!! He died of a septic infection he got while at the hospital, getting a stint put in for his dialysis.
My mother still takes the full program and says it makes her feel 20 yrs younger and she is 72 yrs old. She believes that the Algae program helped Dad in so many ways and we were blessed with many more years with him because of it. She walks and rides her bike every day, also teaches a water aerobic class 5 days a week in Florida, she is the ever-ready bunny!

My husband Jim, at 57 yrs young, is healthier than any of his friends, always passes his stress test, good blood pressure and takes NO Meds for anything. Myself at 48 have perfect blood pressure, cholesterol is a little high, but not high enough for meds. Have just started thyroid medication and I believe because I have not been diligent about taking my SBGA daily. Will be retesting in a month.

We rely on Simplexity products for our energy & good health.
These products support the building of healthy cells, blood, tissues, organs and the body by supporting the Four Basic Biological Requirements: Probiotics, Enzymes, Organic Nutrients,
and Whole Food Antioxidants, naturally.
An owner with poodles saw their fatty tumors disappear while feeding SBGA.
A friend has an Arabian gelding with an allergy to hay and as long as she gives him SBGA he does not cough in the show ring and she does not have to give him allergy shots.
Dogs are carnivores, they have sharp teeth for a reason, they were made to eat protein, raw meats. I feed raw 2-3 days a week and our dogs do wonderfully. But many folks won't go that far, for many reasons, so the best foods for their animals would be a grain free dog & cat foods. All our animals eat SBGA.
Shepherds particular can not digest grains, that's why vets say they have sensitive stomachs. A grain-free formula for all life stages is what we feed.
We will ALWAYS consume this wild food! Judy Long

"Earth's First Food," Aphanizomenon flos-aquae (AFA)

If you have any questions about our AFA products
and ask.

The nutritional profile of organic blue-green microalgae is impressive. Not only does AFA contain all 20 amino acids, but also essential fatty acids as well as 13 necessary vitamins, 23 elements and trace elements, the mental energy activator phenylethylamine (PEA), and the all-important antioxidant pigments phycocyanin and chlorophyll. In addition, AFA contains the ideal balance of proteins, carbohydrates, fats, complex sugars, and fiber. Few substances on Earth can boast such a complete, well rounded and wholesome nutritional composition.

~~~~~~~~~~~~~~~~~~~~~~~~~~~~~~~~~~~~~~

Local All Breed Dog training available

Judy Long

Training/Coaching pets and their people with Calm & Gentle hands....

She has experience in Rally Obedience Titles
and Judy owns 3 Therapy dogs and co-owns 2 more.

Judy Long has 30+ years of dog training experience. As a teenager, she was a trainer/groomer before she even knew what it was called. She has always had the "touch" with animals, grooming with the President of the Michigan Grooming Association at Puff-n-Fluff back in the 80's, then manager of grooming/boarding facility at DePorre' Veterinary hospital in Birmingham, MI. Training dogs of many breeds with a calm and gentle hand, to teach manners and basic obedience. Since 1992, she has been training, showing and breeding Horses & German Shepherds. Titled her Shepherds in AKC Rally and currently training them as CGC and Therapy dogs, to give back to the community where she has lived her entire life and raised her family.

Contact her for more information regarding group classes, private lessons,
Basic & advanced OB, Manners, CGC & Therapy Coaching

student testimonial;

Judy has shown me the magic connection between animal and owner;
her innate ability to read the both of us, is the guiding force gentle and positive training.
Her methods, skills and intuition is making my precious 1 year old German shepherd dog in training a welcome and appreciated family pet. Dr. Kathie Hammes Ph.D.

Loki and I would not be where we are today if it weren't for Judy and Mona. Sixteen months ago he was a frightening reactive dog that I feared would have to be locked in the backyard. Now he has his CGC and TDI and I know that he is capable of much, much more. Thank you both for teaching me how to teach him and expanding our bond. He's my boy!! Laura


248.882.0986
puregoldmorgans@earthlink.net


~~~~~~~~~~~~~~~~~~~~~~~~~~~~~~~~~~~~~~

Hi Judy,

I thought you would like an update on how Sweety is doing. One word: GREAT!

She is taking everything in stride. She loves the gossip door of her stall -- they each hang their heads out and make sure everyone is there. And she loves her window. She is getting used to the routines, and seems to be settling in and getting comfortable.

My geldings are getting along very well with her. Jake (the quarterhorse) is smitten and wants to follow her everywhere; Except for food, Jake is a push-over/ nursemaid, so she runs to him for comfort or a nose rub. Ethan (a Lippitt) acts like he is rolling his eyes at her (good grief, WHAT did you bring me?!), but he gets anxious whenever she wanders away and he can't see her. In fact, Ethan decided today that he now has a herd to watch over, and spent a good portion of this morning herding them around trying to get them to behave and stay together.

Sweety is finally expressing her opinions more and more. She was fairly subdued and quiet the first few days -- taking everything in. She is really a great, little gal!


Have a lovely New Year's!

~ Esther

9/14/11 update


Susie is doing JUST GREAT! Everyone who meets her just loves her! My farrier and vet both love her confirmation and personality. I'll send you some pics tonight (I have to get them moved over). She is getting bigger, faster, and cuter -- if that's possible. Still super curious and friendly and brave. I am trying to expose her to many different things and situations -- she takes everything in stride -- pauses, looks, sniffs, and usually tries to grab something with her "prehensile" lips (not her teeth). Yep, she is still the silly yearling -- I call her my "goof girl" -- stealing bandannas out of my farrier's pocket, walking off with a bucket in her mouth, or drinking out of the dog's water bowl in the barn! I hope you are enjoying your Fall!




~ Esther

DOB 4/21/2010
Sweety, now known as Susie.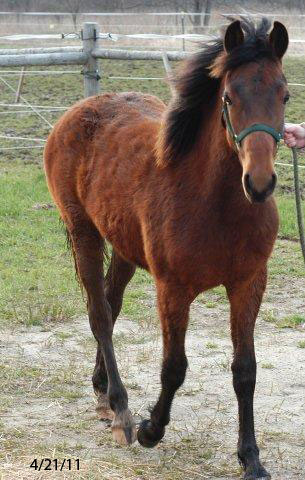 ---